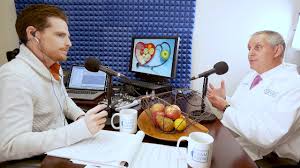 Sunday, October 20th @5PM       $30
Learn about the ultimate diet for athletic performance with Dr. Jim Loomis of the Barnard Medical Center and recently of The Game Changers in a live podcast of The Exam Room with a special organic, plant-based dinner:
Organic Kachumber Salad (salad dish in Indian cuisine consisting of fresh chopped tomatoes, cucumbers, onions, lemon juice, and sometimes, chili peppers)
Organic Chickpeas Curry with Spinach over Aromatic Basmati Brown Rice
Organic Burfi (Nuts) (a dense plant-based milk sweet from the Indian subcontinent)
For tickets, please visit: http://bit.ly/GreenFareLoomispodcast     Tips not included.
James F. Loomis Jr., M.D., M.B.A., received his medical degree from the University of Arkansas, where he was elected to the Alpha Omega Alpha Honor Medical Society and graduated with honors. He subsequently completed his internship and residency in internal medicine at Barnes Hospital in St. Louis, Mo. In addition, Dr. Loomis received an M.B.A. from the Olin School of Business at Washington University in St. Louis. He is board certified in internal medicine and has also completed the certification program in Plant-Based Nutrition from Cornell University.
Dr. Loomis has served as team internist for the St. Louis Rams football team and the St. Louis Cardinals baseball team, as well as tour physician for the St. Louis Symphony Orchestra. Before coming to the Barnard Medical Center, he practiced internal medicine at St. Luke's Hospital in St. Louis, where he was also the director of prevention and wellness. He was also on the clinical faculty of the department of internal medicine at Washington University School of Medicine.  Dr. Loomis recently starred in the new documentary The Game Changers (www.gamechangersmovie.com)
Chuck Carroll of The Exam Room podcast: Learn the secrets to radically improving your health as show host "The Weight Loss Champion" Chuck Carroll, who lost 265 pounds and kept it off, goes one-on-one with others who have transformed their lives.