We have heard many amazing and inspiring success stories from Kickstart participants about how changing the way they thought about food transformed their health and their lives. We decided these stories were just too good to keep to ourselves, so we've decided to start documenting them and sharing them on this page. We hope you will check back often for updates, and be inspired to eat better and live better!
"My life has changed dramatically for the better, and I am only on Day 9 of the 21 Day Kickstart Program. Eating the delicious whole plant food dishes prepared by your GreenFare Restaurant make it easy to stay on track, thereby, avoiding all the trigger foods. The chronic joint pain in my hands and feet has greatly diminished. I have lost weight, have more energy, and am sleeping better at night . My mind is sharper than it has been in many years.
Kickstart is an answer to my prayers!
Thank you for helping me, and changing my life in ways that I could only dream were possible!"
Trish Smith
"After being on this plant based diet for 2 months, I feel much better and more energetic.  I lost 22 lbs., my total cholesterol dropped by 54 points and after being pre-diabetic, I'm comfortably back within normal range. I couldn't be happier."
George S.
"I started the Kickstart program after eating a mostly vegetarian diet for several years while trying to keep weight off and my cholesterol down.  After 30 days, including the 3-week kickstart program, I lost 12 pounds and my cholesterol dropped over 25 points.  My doctor informed me that my overall lipid profile is the best that he has ever seen for me (I have been a patient of his for approximately 10 years).  The meals are very well done and the knowledge shared during the program is invaluable.  Thank you for a terrific program!"
George P.
"I was on pain medication for 3 years for arthritis and after two weeks on your meal plan, my pain was gone."
Debbie B.
I recommend the Kickstart Program:
Interesting, informative and insightful instruction by Pericles and Gwyn.
Fun interaction with the class participants which contributes to the learning environment.
Straight forward approach to meal preparation and eating which yielded impressive results — including loss of weight, substantial reduction of cholesterol and the satisfaction of not being hungry between meals reducing the desire to snack.
The field trip to the market with insightful label reading highlighted the importance to be an informed consumer.
Jeff Harris
GreenFare Staff Success Story
Since joining our staff in January and completing our 21-Day KickStart Program, GreenFare's Executive Chef, Justin Matthews has lost 18 pounds! He looks and feels fantastic and we couldn't be more proud! Inspired by Chef Justin's success? Take the next step toward living healthier and join our next Kickstart Program!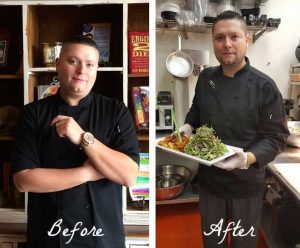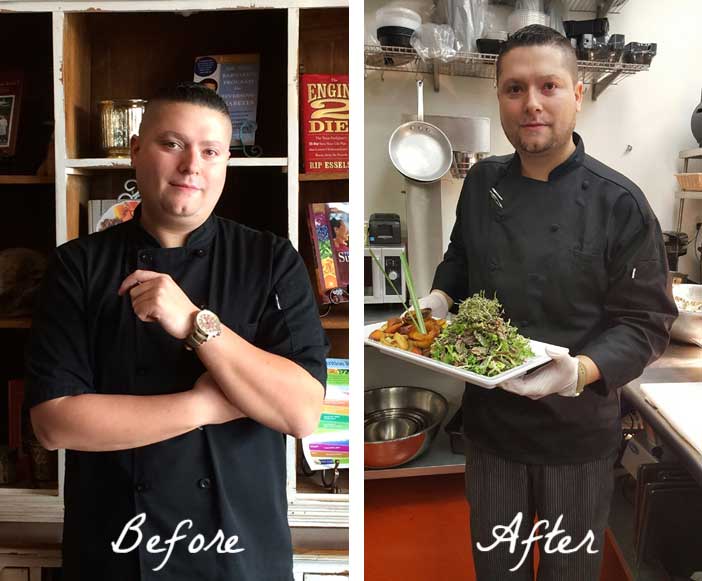 Chef Justin